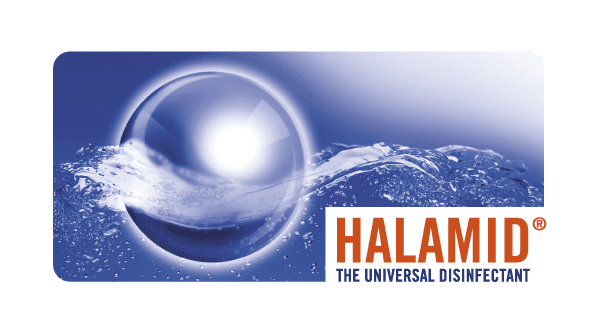 KRAHN Nordics – partnership with Axcentive, producer of Halamid®
5 September 2023
KRAHN Nordics AB, the specialty chemical distributor, and Axcentive Group, the innovative chemical manufacturer and producer of Halamid®, the universal disinfectant and global brand, have announced a new collaboration. The agreement consolidates the cooperation and long-term association between the two companies. It further enhances the customer offering of both KRAHN and Axcentive and establishes an even stronger global network of people working together, providing excellent products and services with long-lasting proven efficacy.
Halamid® is a powerful biocide and is highly effective against all major pathogens. It is a readily biodegradable disinfectant with superior storage stability. Tests have shown that Halamid® is a very stable product, both as a powder and as a solution, ensuring that it remains ready for use with full efficacy whenever it is needed.
The safety and simplicity of the disinfectant makes Halamid® an excellent partner of protection in situations where intensive farming, including poultry and aquaculture environments demand cleanliness and hygiene. The challenge in intensive farming, where high density animal populations, building storage and transportation systems are at potential risk of contamination and transmission of pathogenic microorganisms, requires high performing and effective sterilizer solutions.
Laboratory tests and field trials show that Axcentive's Halamid® has been successfully developed over 60 years to deliver excellent efficacy against problematic bacteria and viruses in poultry farming (in animal houses, equipment, vehicles and footbath). In the dairy industry, Halamid® is used to disinfect cow teats as well as the milking equipment and can be applied by spraying, nebulisation or (thermo) fogging.
In Aquaculture environments, Halamid®, also known under its generic name chloramine-T, is widely acknowledged to be the perfect hygiene product in this market, particularly given the safety margin between the concentration effective against microorganisms and one that is potentially toxic for fish. Its high efficacy levels against fish and shrimp pathogenic microorganisms, makes Halamid® an indispensable product in any aquaculture operation, from the nursery and growing tanks to the fish processing plant. Disinfection with Halamid® of tanks and ponds, nets, equipment, well boats and in the fish processing industry ensures that bacteria, viruses and parasites are rapidly and effectively destroyed.
KRAHN Nordics is committed to support its customers with an expanding portfolio of world class products.
More product information can be found here.