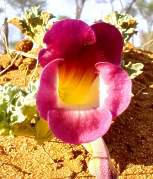 Amphochem – we're helping to create livelihoods in rural Africa
20 March 2022
Amphochem is helping to create livelihoods for rural African communities as it continues to develop its personal care portfolio with Rosacalm, an extraordinary extract found in the Namibia desert.
Today's modern lifestyles and environmental conditions, increasing atmospheric pollution, extreme weather patterns and day-to-day stresses can often take their toll on our wellbeing, and can result in damaged, distressed skin. Rosacalm is notable in its restorative qualities, targeted at relieving skin redness, inflammation and puffiness whilst helping to restore youthful, vital skin.
Rosacalm's INCI name is: Harpagophytum Procumbens (root extract, propane diol, water). It is used in serums, eye creams, after shave lotion and gels, face masks and tattoo creams with the additional benefits of reducing skin redness (Rosacea), acting as an anti-inflammatory and efficiently contributing to moisture retention.
The unique extract has undergone cosmetic studies performed by German research laboratories, Zuplex Botanicals who specialise in dermatological testing and organically certified ingredients.
Amphochem is proud to be collaborating with botanical formulators to develop beneficial formulations that help rural communities enhance and improve their livelihoods, whilst also providing relief to customers worldwide who can benefit from Rosacalm's healing qualities.
The INCI list (International Nomenclature of Cosmetic Ingredients) is a mandatory nomenclature on cosmetics since 1999. Created in 1973 by an American association, the INCI list (or list of ingredients) aims to standardize the ingredients present in a product cosmetic.
For more information on Rosacalm and other Amphochem products click here.